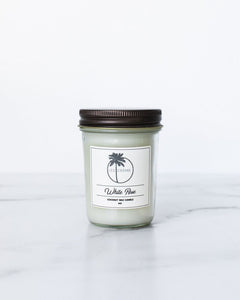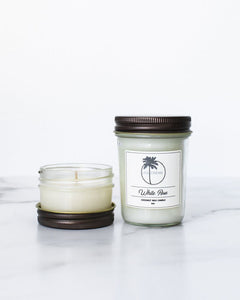 White Rose Scent Coconut Wax Candle
Regular price
Sale price
$29.00
---
Thanks to great research and testing, we offer the healthiest and best-scented candle on the market today! Our clean-burning, toxin-free candle, was formulated using 100% botanical all natural coconut wax and cotton wicks.
Personalize and perfect the mood of your home with our serene and seductive candles. While bathing, reading, relaxing or as a gift, this candle has the scrumptious scents that complete the ambiance of any room.
Ingredients:
This candle is infused with fragrance oil and Organic coconut wax
Specifications:
Mini (4 oz): This is our most-popular size and is meant for dressers, countertops, nightstands – basically everywhere. Burns for 30-40 hours. 2.6" in diameter and 2" in height.
Large (8 oz): For big rooms, spaces with high ceilings, and those who want a stronger scent throw. Burns for 70-80 hours. 2.6" in diameter and 3.75" in height.
Travel Tin (8 oz): Sleek, portable containers that compliment any decor. Burns for 70 to 80 hours.
Use:
Following Candle Care helps to ensure product quality + longevity. We highly recommend following each of the following steps:
Trim your candle's wick to 1/4" before each lighting or once your candle has cooled.
Never attempt to trim a burning candle.
Discard the snipped portion in the trash; never leave wick trimmings in your candle jar.
The wick should always remain centered and away from the sides of the vessel.
Allow the wax to melt to the edges of the jar during each burn to prevent tunneling.
Once the candle's gone, we hope you'll re-use it. Clean it out and you've got a new planter or pencil holder – or whatever you want!
Safety first - because candles burn and contain a small flame, so we encourage following these common sense rules of thumb:
Never leave a candle burning unattended, near a draft, or in reach of children or pets.
Don't burn your candle for more than 4 hours at a time.
Do not allow your wick to curl over, as this can create a larger than normal flame.
Stop burning your candle when only 1/4" of wax remains.
Do not pick up a burning candle or immediately after it's been blown out.
Protect the surface underneath the candle no matter the material.
Processing time: 6 - 7 business days
Shipping time:
US: 1 - 7 business days
Canada: 4 - 10 business days
International: 7 - 14 business days
Returns: We hope you love your purchase, but we understand that some things just don't work out as planned. If for any reason you are not completely satisfied, you may return your undamaged and unused item with the original receipt for a prompt refund and exchange. Returns must be delivered to us within 30 days of the date you received the item(s). Any item(s) sent back after 30 days cannot be accepted. Return shipment costs are the responsibility of the buyer. Returned goods must be delivered to us unused, in original packaging and in new condition.